POLYPROPYLENE CLICK TILES
collection hestra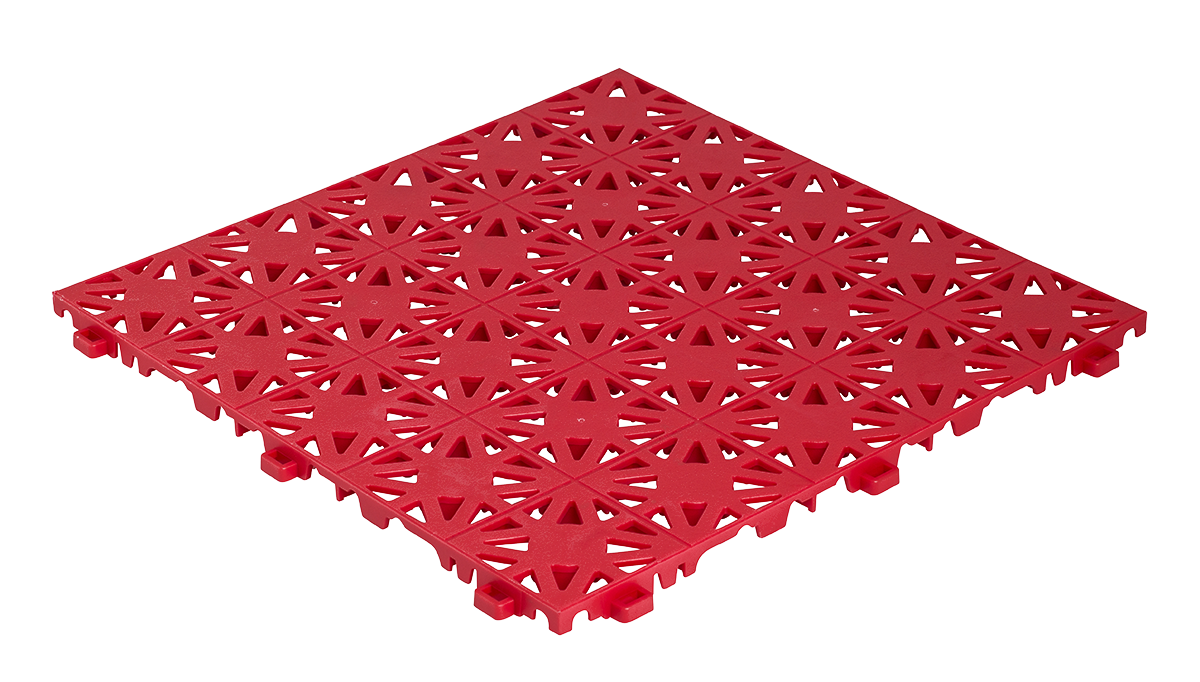 Timeless pattern, quality design, wide use.
Tiles from the Hestra collection are ideal for indoor and outdoor use. Without damage or deformation, it is possible to use these tiles in the temperature range from -30 to +70 degrees Celsius. You can put it around the pool, where you and your children will not slip again. Or in a home sauna, where it creates a safe and non-flammable surface.
The one-color design of HESTRA tiles is resistant to UV radiation, so it will not fade after the first summer season, nor will unsightly smudges form on the floor. The guaranteed load capacity is 110 t/m², so you can build on them a shelf, garden furniture or tools without worrying about click tiles. No worries about extruded dimples.
We also offer accessories. More precisely corner and edge strips for a smooth transition to the floor. You can use them at the gate in the workshop or garage.
BENEFITS OF HESTRA TILES
EASY DIY INSTALLATION
(using a locking system)

WATER PERMEABILITY
(what flows in, flows out, without mold and stale)
TEMPERATURE RESISTANCE
(ideal for whole year use)
UV-RESISTANCE
(the tiles will not fade)
SUITABLE FOR INDOOR AND OUTDOOR USE
ANTI-SLIP SURFACE
(your children and you will not slip again)

EASY MAINTENANCE
(you can sweep, vacuum and wash the floor with high pressure washer)
ABSORBING NOISE
(this is certainly appreciated by the neighbors as well)
2 YEAR WARRANTY
TECHNICAL DETAILS
DIMENSIONS:  300 x 300 x 12 mm

WEIGHT: 248 g

QUANTITY IN PACKAGE: 11 pcs = 1 m²


EDGE RAMP
DIMENSIONS: 300 x 55 x 12 mm
QUANTITY IN PACKAGE: 5 pcs = 150 cm

 

CORNER RAMP
DIMENSIONS: 355 x 55 x 12 mm

QUANTITY IN PACKAGE: 2 pcs = 71 cm
MATERIAL
The tiles are made of recycled polypropylene in accordance with REACH regulations.
They are resistant to most chemicals, do not smell and do not change color in the sun thanks to UV stabilizers.
Choose the color of the plastic tile that will suit you the best. You can combine them with each other and create patterns.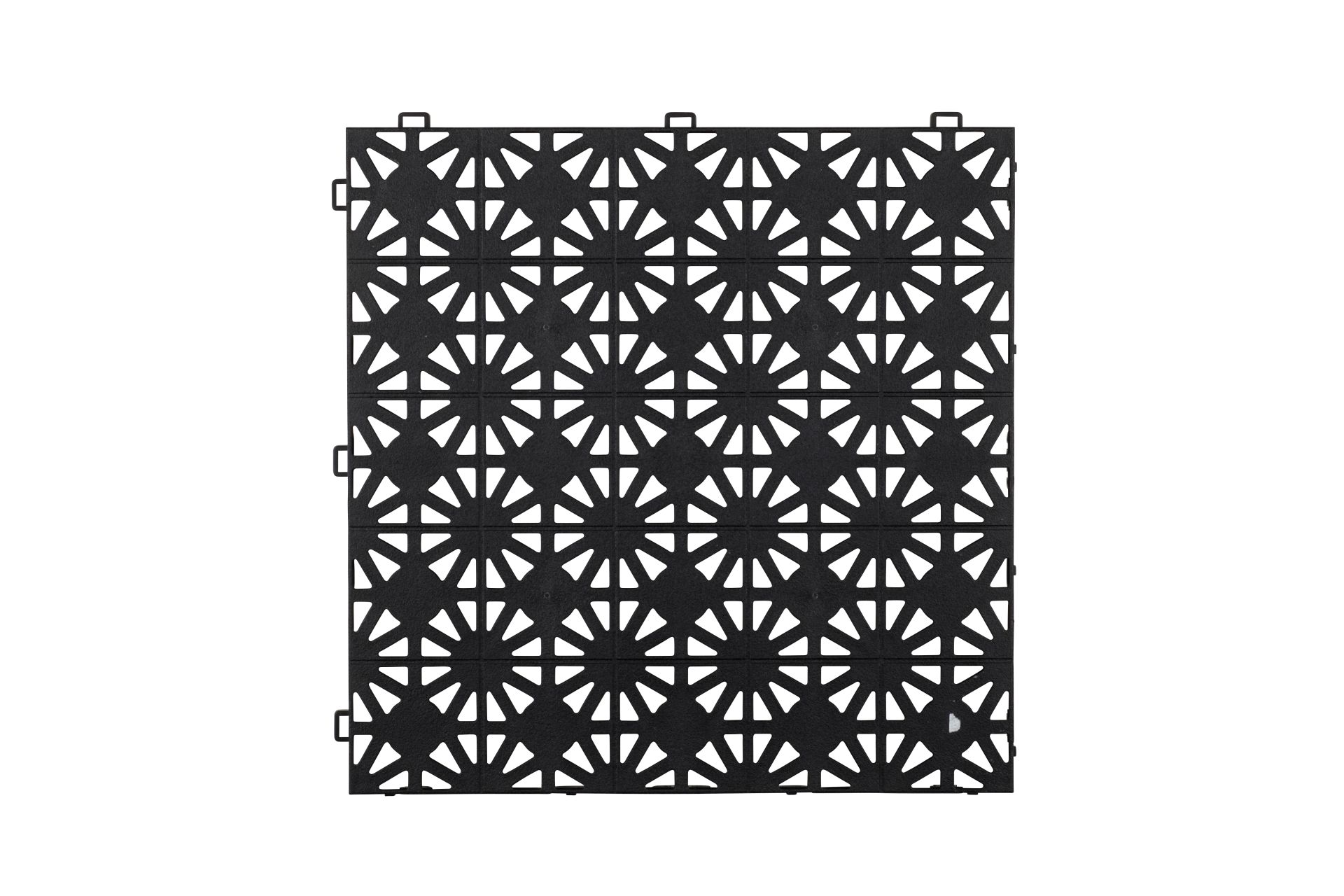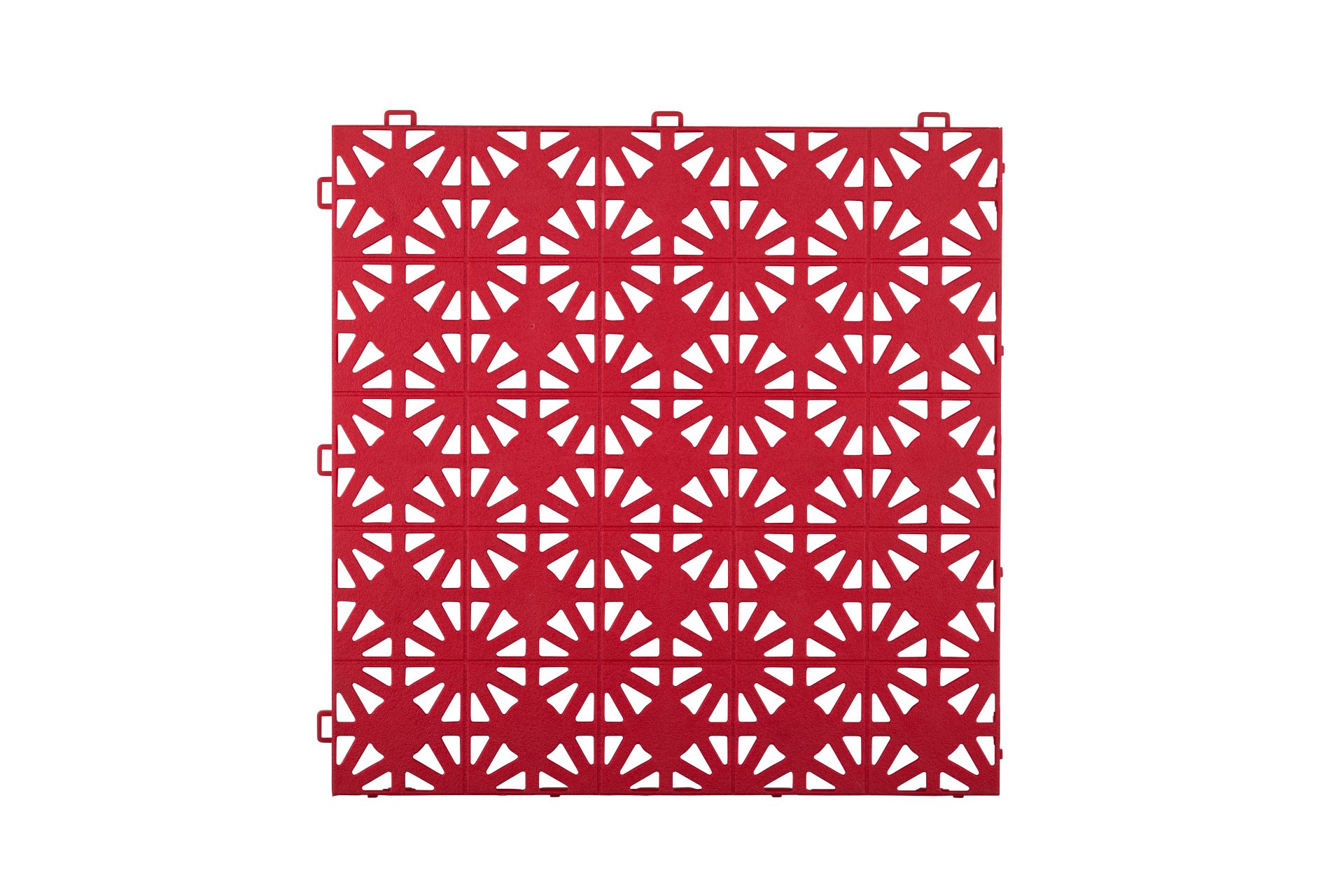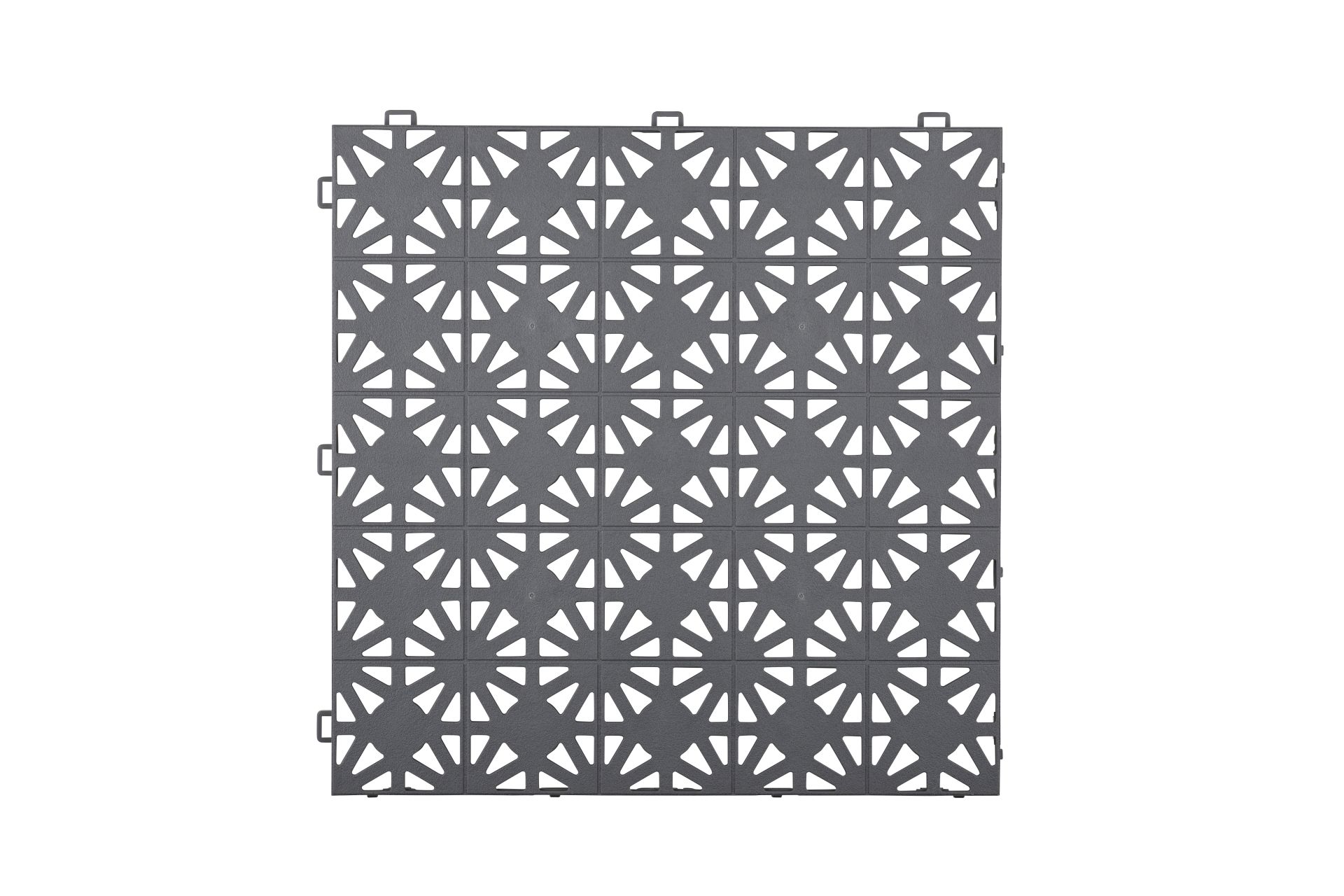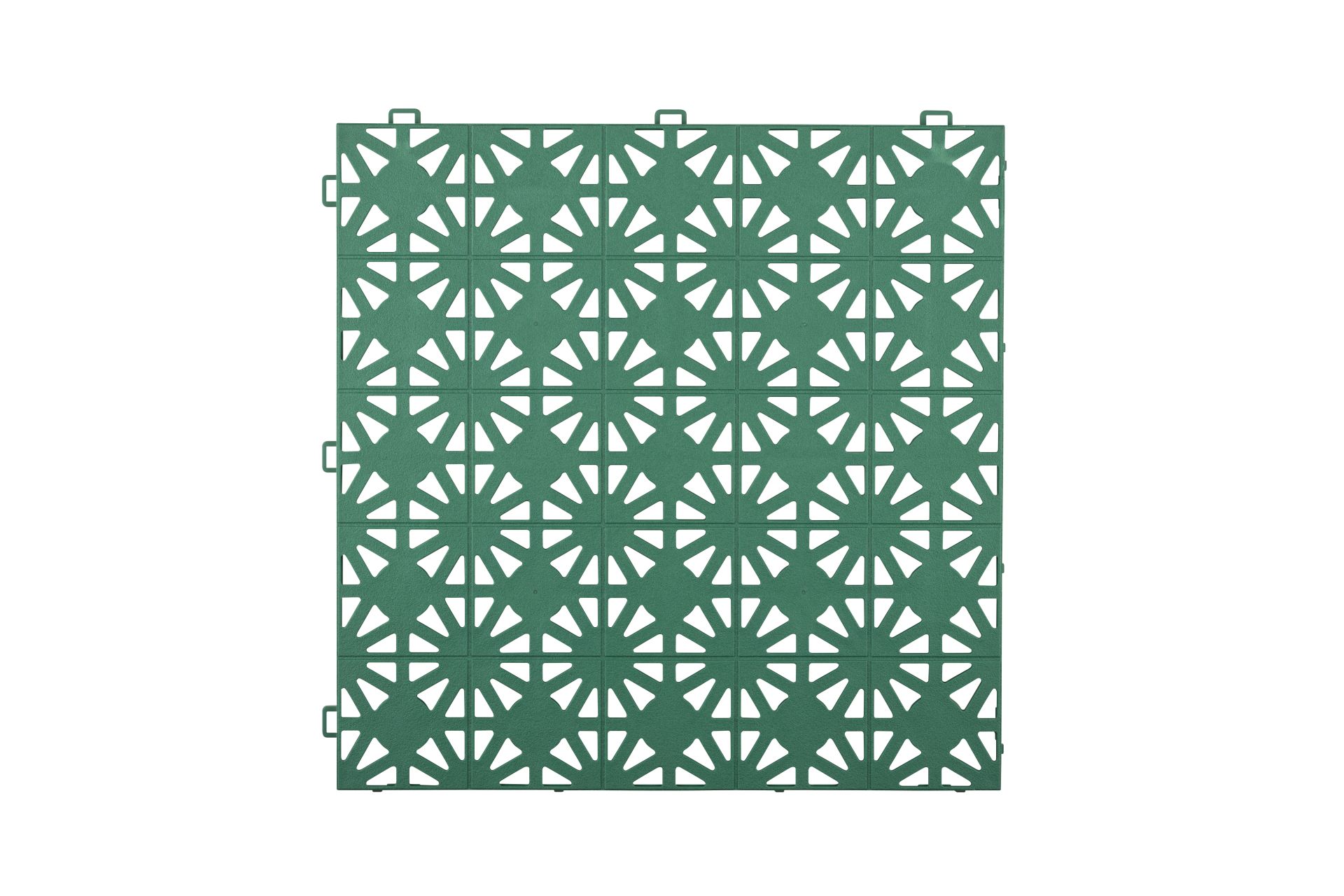 Hestra tiles are light, interlocking tiles. You can easily install it on Friday after work or on Saturday morning. You do not need special tools, glues, screws or sealants. The solid locking system easily fits together. The dimples from the balcony furniture will not be pushed into the tiles, they will not be scratched by the claws of pets, and if we tell the truth, you will easily clean even unpleasant pigeon greetings.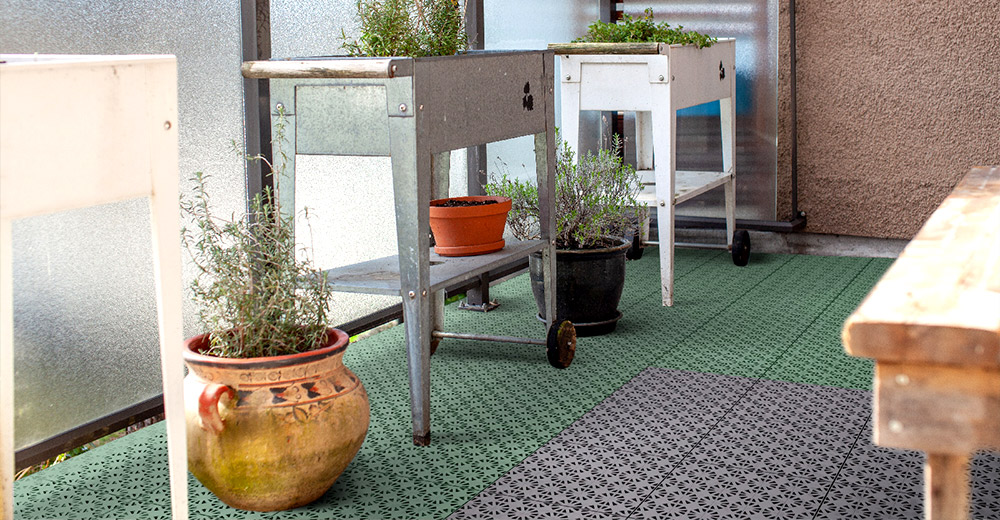 There`s nothing better then to look at the tiles with your own eyes. You will find out right away whether the green one will fit you the way you thought, or the gray one, whether it will enliven or reduce the space. Alternatively, how the color combinations will fit together.
Floor samples
Order samples of Hestra tiles and see it with your own eyes.